Mediterranean Journey - Start Paris, Small Group, 2023 Start Paris Small Group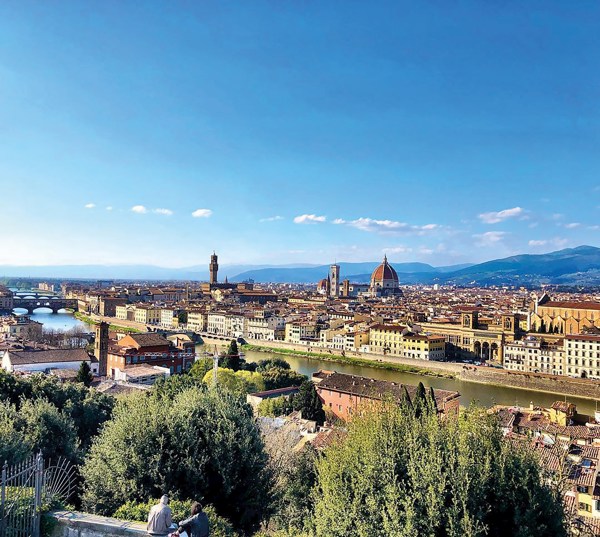 Mediterranean Journey - Start Paris, Small Group, 2023 Start Paris Small Group
Marvel at Gaudi's masterpieces in Barcelona, spot locals sipping pastis in Nice and admire Florence the home of Michelangelo's David, as you circle the azure waters of the Mediterranean. Embrace a day of Pisa sightseeing with a stop at the famous leaning tower, where Italian astronomer Galileo was said to have pioneered his theories of gravity. In France, work up an appetite in the medieval streets before a sumptuous farm-to-table dinner in Avignon with a menu that showcases traditional French, home-style cuisine. In Spain, dine with the locals in Basque tradition with an evening of San Sebastian pintxos tastings, snack-sized tapas, while sipping on a refreshing glass of local Txakoli wine. In Rome, the dish du jour is, of course, handmade pasta and seasonal flavours.
Choice Highlights
Choose between two carefully selected activities
Paris: Shop in quaint boutiques like a true Parisian with your Local Expert.
Paris: Join an avid local foodie on a walk through the streets of Paris. Visit a variety of patisseries, boulangeries and chocolatiers and sample local treats and delicacies along the way.
Choose between two carefully selected activities
Madrid: Visit the Reina Sofia Museum with an art historian and see Pablo Picasso's masterpiece Guernica, one of the world's greatest anti-war paintings. Alternatively, join a neighbourhood walking tour to discuss social equity empowerment and learn about the history of women's movements in Spain.
Madrid: Join the female pillars of the local community on a neighbourhood walking tour and learn the history of the women's movement in Spain, firsthand. This experience advances UN Sustainable Development Goal 10: Reduced Inequalities. Alternatively,visit the Reina Sofia Museum with an art historian to see Picasso's Guernica.
Well-being
: Our Well-Being Directors take a proactive approach to your welfare ensuring all well-being regulations are met (available on tours with 21 or more guests).
: Enjoy the comfort of Insight's luxurious, air-conditioned, 40-seat coach with double the standard legroom and onboard washroom. Our customized luxury coaches are sanitized before the start of your tour and are maintained to very high standards. Physical distancing measures have been implemented on our customized luxury coaches.
: Experience enhanced hygiene protocols to align with the latest guidance following COVID-19.All Travel Directors, Well-Being Directors and Drivers have completed training in enhanced well-being and hygiene protocols.
: We only work with establishments we are confident will consistently adhere to our high well-being standards, which include hotels, restaurants and sight-seeing venues.
: Hand sanitizer is freely available on board for you to use throughout the day.
Travel Director
: "One food I really love introducing my guests to is the gilda because it is the original pintxo and has evolved into Europe's most exciting foodie experience."
: "One thing I really love about showing guests about Italy is how art and beauty can be found around every corner of some of Italy's cities, which are real open air museums."
: "Italians are very fashionable but their cooking is the opposite - simple, rustic and down to earth. A handful of quality vegetables, fresh herbs and beans are turned into a warm and comforting soup."
Top Rated Highlights
Paris: See Notre Dame Cathedral, the Eiffel Tower, facades of the Louvre, the River Seine and its romantic bridges, the obelisk in the centre of the Place de la Concorde and enjoy a drive along the Champs Elysées to the Arc de Triomphe.
Paris: Shop in quaint boutiques like a true Parisian with your Local Expert.
Chateau Chenonceau: Visit the majestic Chteau de Chenonceau, known as the 'Ladies' Chteau' it perfectly embodies the elegance of 16th century design in the Loire Valley.
Bordeaux: Your Local Expert will show you the quayside facades, Grand Theatre, Triangle d'Or and magnificent Esplanade des Quinconces.
San Sebastián: Led by your Local Expert, enjoy a guided walking tour of the Old Quarter including Plaza de la Constitucion.
Madrid: See the highlights of the city with your Local Expert. Visit the Old Town, travelling along the elegant Paseo de la Castellana, past the fountain in the Plaza de Cibeles, the Cervantes Monument and Royal Palace, before crossing the Puerta del Sol.
Barcelona: Your Local Expert shows you the Gothic Quarter. See the cathedral and the Roman. You will also enjoy a drive down Las Ramblas and the elegant Passeig de Grcia to witness some of the finest Modernist architecture. Journey through the Eixample district to see Gaudi's extraordinary masterpiece, the mesmerising Sagrada Família.
Avignon: View the Pont d'Avignon and walk the medieval narrow streets of the Old Town to the Palais des Papes.
Nice: Enjoy exploring the beautiful coastal town of Nice on the French Riviera.
Monaco: Enjoy a drive along part of the Grand Prix circuit and wander the old town with your Travel Director to see the Royal Palace and the yacht-filled harbour.
Monaco: Explore inside Monaco Cathedral.
Pisa: Your Local Expert will show you the baptistery bristling with marble spines, the colonnaded bell tower lurching behind the 11th century cathedral and of course, the famous Leaning Tower in the Square of Miracles.
Florence: Join a Local Expert to view the multi-coloured marble cathedral, bell tower and baptistery, adorned by Ghiberti's Gates of Paradise. Visit the political heart of the city, Signoria Square. See the area around Santa Croce Basilica, famous for the quality of its luxury goods.
Rome: During your orientation with you Travel Direc...
At Insight Vacations, we have been in the business of creating magical experiences for travelers for over 40 years. But for us, it's never been just a business. Travel in its truest sense - not just going to incredible places, but really connecting with them, in an authentic way - is both a joy and a personal passion, for every member of our team. Let us share that passion with you. We'll take you on an unforgettable journey. We'll immerse you in unique experiences, and we'll introduce you to am
...